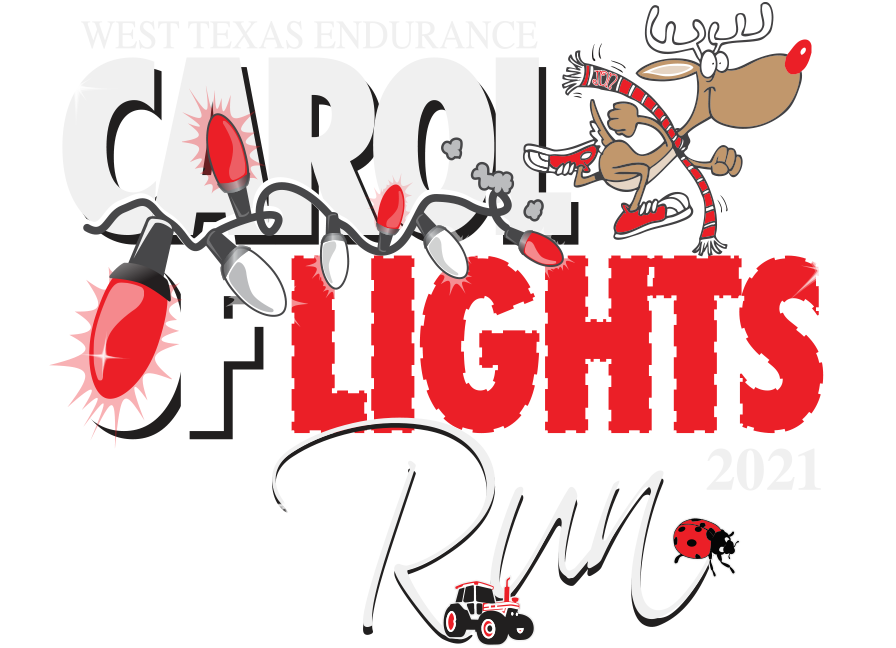 DECEMBER 2021
With more than 25,000 colored lights that illuminate the Texas Tech University campus – this family-friendly event will have you amazed and full of the holiday spirit!
Online Registration will be active soon!
About the Carol of Lights Run
Enjoy the spirit of the season with an evening run on the campus of Texas Tech University. This family-friendly event will have you amazed at the more than 25,000 colored lights that illuminate many buildings on campus.
The longer course (5K) will have runners enjoying a lap through Jones AT&T Stadium! Carolers will entertain the runners along the course. After crossing the finish line, all runners will enjoy hot chocolate that will provide a warm treat on a cold winter's night.
Donations:  Please consider bringing an item for the Ronald McDonald House Charities of the Southwest:
Register early
to be guaranteed a Race T-Shirt!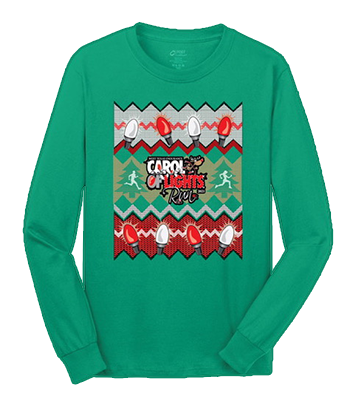 Ronald McDonald House Charities of the South Wish List Items:
KITCHEN:  paper towels, plate & bowls, trash bags, plastic forks & spoons, foil, press-n-seal, Ziploc storage bags, storage containers with lids, disposable gloves for food handling.
BATHROOM: toilet paper, facial tissue, white hand towels, and white bath towels.
CLEANING:  Clorox disinfectant wipes, Lysol disinfectant spray, furniture polish, all-purpose cleaner, spray-way cleaner, pine sol, and pledge.
TOILETRIES: toothbrushes, toothpaste, dental floss, q-tips, deodorant, travel size shampoo, conditioner, & body wash. Lotion, razors, hand sanitizer and combs.
LAUNDRY ROOM:  bleach, detergent-HE, fabric softener, washing machine cleaner
SNACKS: individually packages snacks such as: granola bars, crackers, peanut butter craackers, cookies, fruit roll ups, fruit cups, pudding cups. Snack-size chip bags, peanutes, trail mix, easy mac individual servings, ramen noodles, beef jerky, hot pockets, canned tuna, canned meat, juice boxes, water, etc.
FOOD: cookie dough and store-bought casseroles.
OTHER: Walmart & Target gift cards (to purchase above mentioned items).
* To help maintain clinical integrity, please make sure that all items are new and in original packaging.
2021 Carol of Lights Run Information:
MANDATORY PACKET PICKUP!
To help race day go as smooth as possible – we appreciate everyone picking up their race day packet before race day!
MANDATORY PACKET PICKUP!
CARDINAL'S SPORTS CENTER
6524 Slide Rd, Lubbock TX
RACE LOCATION:
TEXAS TECH UNIVERSITY MEMORIAL CIRCLE
DASHER (5k or 1-Mile)
(Ages 13 and Over)
ELF (5k or 1-Mile)
(Ages 12 and Under)
Volunteers
We LOVE our volunteers!  Join us in supporting the athletes during the race!  Volunteer shifts include packet pick up, water stops, finish line, course support and more!
For more volunteer information email team@westtexasendurance.com — Volunteers receive official race shirts, goodies and a huge WTE thank you on behalf of our athletes. If you volunteer as a group, your logo will be placed on the website!