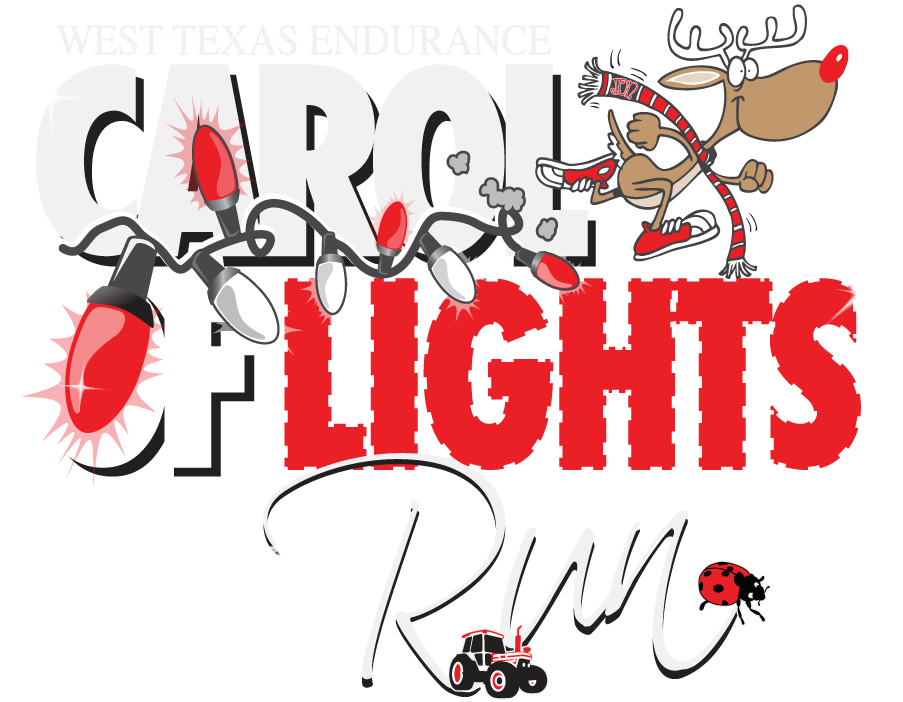 DECEMBER 3, 2023
With more than 25,000 colored lights that illuminate the Texas Tech University campus – this family-friendly event will have you amazed and full of the holiday spirit!
About the Carol of Lights Run
Enjoy the spirit of the season with an evening run on the campus of Texas Tech University. This family-friendly event will have you amazed at the more than 25,000 colored lights that illuminate many buildings on campus.  There are 2 course options.  1-Mile or 5K.
The longer course (5K) will have runners enjoying a lap through Jones AT&T Stadium (TBD)!  Carolers will entertain the runners along the course. After crossing the finish line, all runners will enjoy hot chocolate that will provide a warm treat on a cold winter's night.
Donations:  Please consider bringing an item for the Ronald McDonald House Charities of the Southwest:
Ronald McDonald House Charities of the South Wish List Items:
All we want for Christmas is YOU!
You've always wanted to help.. now's the time to do it.

1. Volunteer with us:
Become a guest chef, a baking buddy, help around the house or in our Family Rooms in the hospitals.
2. Donate:
You give families more time together when you donate to RMHC and provide them a place to stay when they have a child in the hospital.
3. Follow us on Facebook:
Keep up with us @RonaldMcDonaldHouseLubbock or on your favorite social media app.
4. Collect aluminum cans and donate them to RMHC.
5. Add RMHC to your shopping list:
Individually packaged snacks, batteries, plastic food storage, plastic cutlery sets, and other rotating needs.
6. Donate gift cards:
Don't know what to get? Gift cards can help us fill in the gaps and take care of the families who stay with us.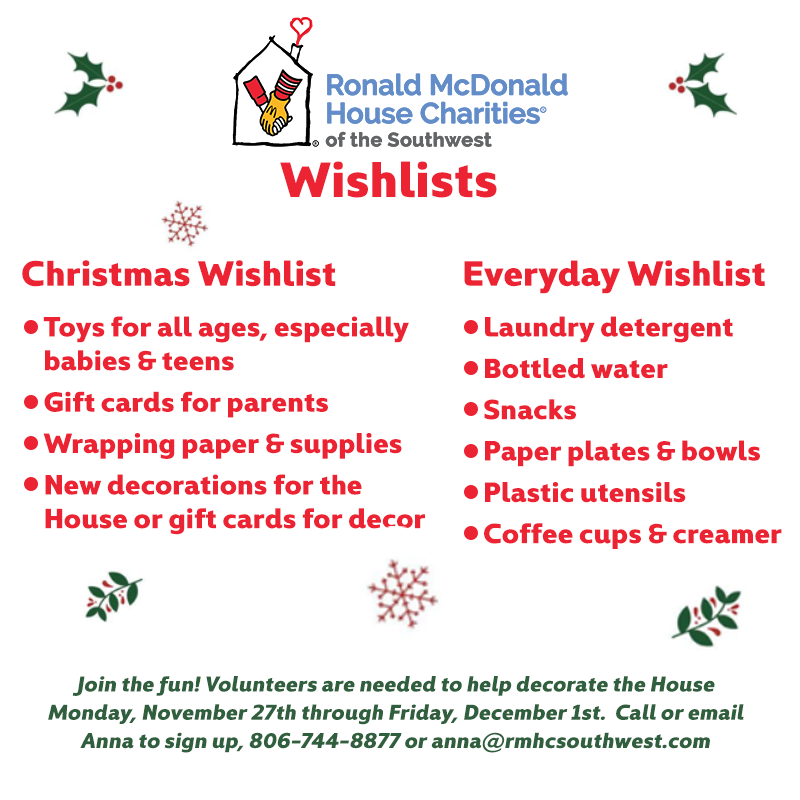 2023 Carol of Lights Run Information:
NO CASH AT REGISTRATION – PLEASE REGISTER ONLINE!
MANDATORY PACKET PICKUP!
To help race day go as smooth as possible – we appreciate everyone picking up their race day packet before race day!
MANDATORY PACKET PICKUP!
CARDINAL'S SPORTS CENTER
6524 Slide Rd, Lubbock TX
SATURDAY - DECEMBER 2, 2023 - 11:00am-2:00pm
DECEMBER 3, 2023

LOCATION: TTU Campus (Race start: Near Chemistry Buiding)
5:00pm-6:15pm - Late Race Registration
(near chemistry building)
6:50pm - 1-Mile Race Begins
RACE LOCATION:
TEXAS TECH UNIVERSITY MEMORIAL CIRCLE (Near Chemistry Building)
REGISTER BY NOVEMBER 18, 2023 TO BE GUARANTEED A RACE T-SHIRT!
Volunteers
We LOVE our volunteers!  Join us in supporting the athletes during the race!  Volunteer shifts include packet pick up, water stops, finish line, course support and more!
For more volunteer information email team@westtexasendurance.com — Volunteers receive official race shirts, goodies and a huge WTE thank you on behalf of our athletes. If you volunteer as a group, your logo will be placed on the website!